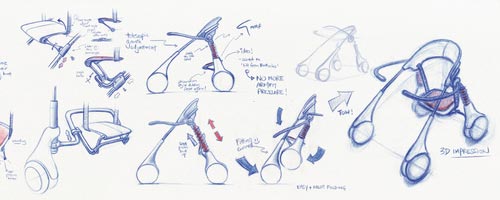 Donn Koh is an industrial designer from Singapore. His experiences led him to work with a lot of prestigious companies, and to found his own studio in 2010 with 4 other (very talented too) designers.
His Behance portfolio is one of the most interesting I've seen since a long time. There are very varied and innovative projects, but the most interesting are the details of the creative process of the designer. Actually, before drawing the first sketch, he works a lot to define very precisely the original need. What is the use of the product ? What kind of use scenario can we imagine ? What are the problems with similar products ? This approach, very user centered, produces stunning, original and innovative solutions.
In my point of vue, this way to conceve a design project should be consistently employed, whatever the design discipline is (graphic design, product design, space design...), and especially in a multimedia design, with a lot of varied user interactions.
But let's stop digressing and let's lloking at some pictures from Donn Koh's portfolio, which I suggest you to visit.