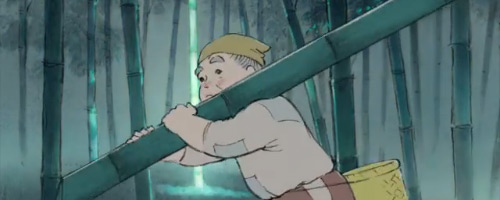 I recently saw The Tale of Princess Kaguya, last movie from Ghibli studio, directed by Isao Takahata. As a big fan of animation movies and Ghibli studio, it's always a great time to see their production in theatre. Based on an old japanese tale, the story has an interesting philosophical aspect but could be understood and appreciated by a large audience, like almost all the Ghibli's productions. By the way, we can find a kind of melancholia as in the last movie of Miyazaki, The Wind Rises.



But more than the story, the graphic style of the movie is really amazing. Mixing up charcoal sketching and watercolor, the design is far away from the other Ghibli movies, even if we can find a derivation from the style of My Neighbors the Yamadas. The drawing is full of life and keeps a lot of spontaneity from the hand of the animator, giving a nice dynamics. This is balanced by the watercolor coloring, with different atmospheres according to the scenes. The whole animation is great, especially on the first scenes when the main character grows up in the moutain. Nature, birds, insects, trees... are simply very beautiful. And as usual with Ghibli, the children are full of energy and their moves and attitudes almost perfect.

A great movie, with strong graphic and scenaristic choices, where animation is at its best !