Mister Jun font is released. Free download in this article !
Clément Romier | On Google + | Perso - Permalink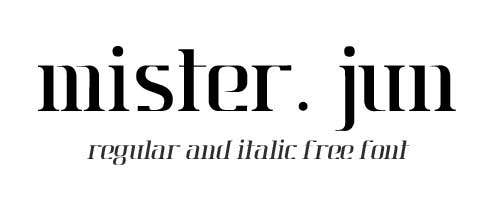 Mister. Jun est une typographie originale déclinée en deux versions, une romaine et une italique (son nom est un hommage à Seba Jun, alias Nujabes, producteur de hip hop japonais décédé récemment). Conçue pour être utilisée en tant que typo de titrage, ou pour la réalisation de compositions typographiques originales telles que la conception de logotypes, illustrations, etc, j'ai voulu créer une fonte ayant un grand impact visuel tout en conservant certaines subtilités apportées par les courbes, empattements et le fort contraste pleins/déliés.
A noter : Cette typographie ne comporte que des bas de casses (minuscules). De plus, le kerning (interlettrage réalisé entre des paires de lettres spécifiques) ne semble pas pris en compte dans les fichiers .ttf , je vous conseille donc de faire attention aux interlettrages et de les modifier manuellement lors de votre composition.
Je serai très heureux de voir ce que d'autres graphistes pourraient faire de ma typo, donc n'hésitez surtout pas à m'envoyer un mail avec des images de vos travaux utilisant ma fonte !
Mister Jun is an original font designed into 2 versions, a regular and an italic (its name is a tribute to Seba Jun, aka Nujabes, hip hop producer who passed away recently). Created to be used as a headline font, or into specific typographic compositions as logos design, illustrations, etc. I tried to create a heavy font with great visual impact while keeping some subtelties from curves, serifs...
Note : this font features only lowercase, no capitals. More over, the kerning seems not to be used into this .ttf files, so I suggest you to be careful about the interletters spacing and to modify it manually.
I should be really happy to see how other designers use my font, so don't hesitate to send me a mail with some pictures of my font included into your work.
En téléchargeant les fichiers .ttf, vous acceptez les termes de la licence d'utilisation :
Cette police est gratuite et ses déclinaisons sont utilisables pour un usage personnel et commercial.
Vous pouvez modifier cette police, mais strictement pour votre utilisation personnelle. Vous n'avez pas le droit de redistribuer cette police modifiée.
Vous pouvez l'embarquer (par exemple dans des fichiers .swf ou .pdf).
Vous n'avez pas le droit de redistribuer cette police, même gratuitement.
Cette police reste la propriété intellectuelle de Clément Romier.
Clément Romier décline toute responsabilité quant aux éventuels problèmes liés à l'utilisation de cette police.
En mettant cette typographie à la disposition du public, Clément Romier déclare de bonne foi qu'à sa connaissance et dans les limites d'une enquête raisonnable parmi les typographies existantes, cette typographie n'est constitutive ni d'une violation des droits de tiers, notamment du droit de la propriété littéraire et artistique, du droit des marques, du droit de l'information, du droit civil ou de tout autre droit, ni de tout autre préjudice délictuel à l'égard de toute tierce partie. Elle a été entièrement créée par Clément Romier, à partir de tracés originaux ne se basant sur aucune œuvre existante au préalable.
ENGLISH :
By downloading these .ttf files, you accept the terms of the following license :
This font is free for personal and commercial use
You have the right to modify this font, but strictly for your personnal use. You don't have the right to distribute this font after modifications.
Embedding is allowed (as in .swf or .pdf files).
You don't have the right to distribute this font, even for free.
this font is the intellectual property of Clément Romier.
Clément Romier is not liable for any problems resulting from the use of this font.
By sharing this font to public, Clément Romier asserts that at his knowledge and into the limits of a reasonable survey amongst existing fonts, this font is not the subject of a violation of any rights, including property rights, brands rights, or any other punishable damage to any third party. This font has been created by Clément Romier, from original drawings not based on any existing work.