Les Pixels Associés, in orbit for 2013 !
Clément Romier | On Google + | Divers - Permalink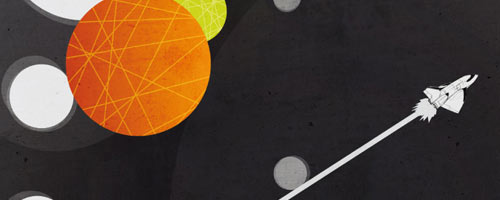 It's been a long time I didn't wrote any article on this blog, I'm sorry for my regular readers but I've been very busy during the last months, with not a lot of time for Ceegee. I will try to take more time for it, but at first, I wanted to wish you a great year 2013.
2012 has been for me a very special year, I left my last webdesigner job to create my own communication and graphic design company, Les Pixels Associés. A just starting adventure, which already allowed me to work on very interesting and varied projects, for passionate clients. I also started a new job as a teacher in a design school, Aries Lyon (Visual communication Bachelor section). A great experience, passionnate and talentful students, and the opportunity to transmit technical and graphical competences, but also my own vision of the job.

After this little personnal summary, I share with you some picture of the 2013 greeting card of Les Pixels Associés, wishing you happiness and success for this new year 2013 !