Interview : Cumulus, motion design and graphic design collective
Clément Romier | On Google + | Motion Design - Permalink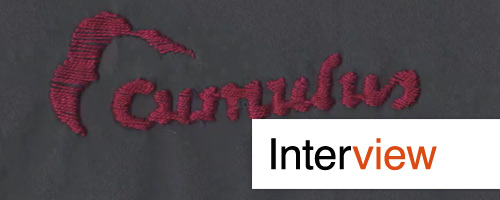 Cumulus is a motion graphics and graphic design collective located in Lyon, France. This studio works for clients like Bouygues, Tv channel Arte, or the french city Villeurbanne.. The collective is also active in the music field, with music videos direction and VJing performances. In this article you can read an interview of the three members of Cumulus Collective. The original interview was in french, so I tried to translate it into English but my english skills are limited...
Firstly could you introduce yourselves quickly ?
T.V: Thomas vernay, 25 years old, dark-haired, 1m82.
Y.W: Yann Wallaert, I'm an eagle
A.L: Arnaud Laffond, human.
T.V: Enfoirés... (could be translated by "assholes" in english, by example).
What are inspration sources, your "examples" ?
T.V: In terms of graphic design, studies almost made us able to build a strong graphic basis in order to stand back from all we see and do. References speaking, I'm quite into contemporary cinema, like Terrence Malick, Wes Anderson, Paul Thomas Anderson...
Y.W: I consult a lot of graphic design blogs, it allows me to keep me posted about trends or old-fashioned stuff ! It evolves very quickly, we can become "has-been" in a day. Beside, I appreciate a lot the works of Jean Julien, Théo Gennitsakis, Julien Vallée, or Alex Trochut. A.L: Internet , magazines, exhibitions, TV. My references : Buck agency for their realisations, Michel Gondry for the creativity and Napoleon Dynamite for Napoleon.

If we look at your website, you work essentially in the motion graphics and graphic design fields. You don't work for web ? Is printed work a necessary task allowing you to complete motion design works, or is it an activity in itself ?
T.V: No web, no, we avoid it, it's too narrow. We don't have enough reflection space to design I find.. That said, if it's well payed we'll do it secretly ! Anyway, printed works and graphic design are necessarily linked, we all have a graphic design training, and we manage to use the video media in an original way thanks to our knowledge about layout grids, colour composing, references and more...
Y.W: We try not to scatter too much...
A.L: Specialising into a field will lead us to be reknown and referenced more easily by clients, instead of being lost between all agencies.

Let's speak a bit about your motion design work. How do you manage to be several designers to work together ? Do you have specific roles or are they evolving project after project ?
T.V: We could have projects directed by only one designer, it's depends on the qualities of every members. Anyway we try to catch a bit of everyone in order to achieve a project. It's important to keep in mind that all the work is not good, and a big selection is required when we're about to put the creations on the website.
Y.W: It becomes really interesting to create together since every members of the collective are in good relationships and everyone can express himself. We are friends since a long time, even before the creation of the collective, so, every thing is ok !
A.L: We exchange advices, we help each other, a real team. But when it's about Fifa...
Trailer - New York Minute from Cumulus Collectif on Vimeo.
More technically, do you work prior to the motion design part in a project, by example on the shooting part ?
T.V: We just begin, we just get the equipment !

You have perform several VJing spectacles, particularly in Lyon and Genève. What's the difference between this kind of performances and a more "classical" motion design work ? Are you aware of the DJs' playlists before the performance or is it total improvisation ?
T.V: For VJing we just have fun and don't think to much about it. A motion design project is a response to an ask, with all the usual creative process !
Y.W: VJing give us a very pleasant freedom. We just enjoy and try spectators to do so. And it's always great to broadcast live our work to a lot of (drunk) people.
A.L: Zero pressure, it's our way to graphicaly let off steam. It's a total improvisation, because we don't know the music by advance, but we prepare animated sequences on different rythmes. After that it's our feeling about the music which take control with our MPD32..
VJING - ZOO L'USINE DE GENEVE from Cumulus Collectif on Vimeo.
It leads me to the next question : which role do you give to music and sounds in your motion design work ? Do you get the sound track before ? Do you work with composers or sound designers ?
T.V: We have been often told that we're very painstaking about the music choice. We take music we like, and actually it's sometimes the music which inspire the work. Anyway I think that sound and picture are indivisible for a good result.
Y.W: I'm personnally under a musical punishment. I don't have to say a word.
A.L: Of course music has an important role in our realisations, it could be the origin of a project. We consider that the musical choice is very important, and everyone brings his references. We know some music bands and DJ who let us their rights, like the music by the Destronics on our showreel.
When will be your next performance ?
T.V: the Mapping Festival, why not ?
Y.w: WHy ? Do you have something to suggest ?
A.L: a bastard housewarming !
You can find the Cumulus collective on the web here :
www.cumulus-collectif.com