Chragokyberneticks, mixing up graphic design and illustration
Clément Romier | On Google + | Webdesign - Permalink
Chragokybernetiks (or CHKY), is the studio of a very talented graphic designer and illustrator, Christoph Frei. Based in the city of Bern, Switzerland, he applies his personnal approach of graphic design on varied projects, allowing him to explore several visual directions.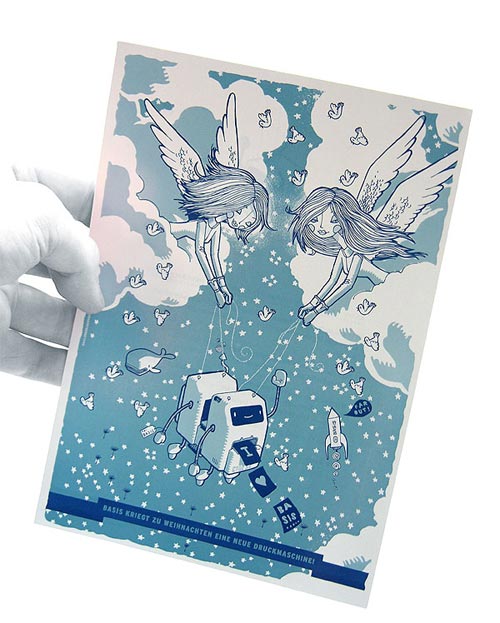 It's simply much more fun when you can throw some illustration into your designs
In the work of CHKY, I really like the fun and original feeling he brings into the creations. The mix up of illustration and graphic design gives his pictures a very personnal touch.
" I studied Visual Communications (which is a fancier term for graphic design) at the HKB Berne, so i'm basically a trained graphic designer. But it's simply much more fun when you can throw some illustration into your designs, so most of the times these two genres mix up in my work. I haven't done a plain typographic poster in along time, come to think of it.
Anyway, for me there's not much of a difference between graphic design and illustration, really. In both cases you try to get a message across, it's just a question of how you do it.
Animation's important to me, anmiating a character is like watching a baby learn to walk
I find this approach very refreshing. I often see on the web and around me very strict approachs of a "hard" and very rationnal graphic design, and it's really good to see more sensitive and fun vision of this.
More over, Christoph plays on several fields, and when he comes to work on a webdesign project, it's often with the goal to use the rich possibilities of the web media, and more especially the animation. Made with Flash, his animation works allow his characters to come to life and bring interactivity into his pictures, in a way you see less and less on the web today... The website www.anyone-can-play-guitar.ch, made for a music festival, is a good example : fun design, animations, and an original way to browse into the content. The result is a great identity, a nice user experience giving the festival a good communication with a kind of emotional relationship for the user.
"I use flash mosty just to animate my illustrations and designs. Animation's important to me, animating a character is like watching a baby learn to walk. If it just wasn't so damn time consuming!
When it comes to code I'm totally lost, so I usually work together with someone who's good at it. Saves a lot of nerve, it does."
And when he talks about inspiration, Christoph names scottish cartoonistTom Gauld, illustrator Scott C., the video game Sword&Sworcery, his studiomates and the american studio Aesthetic Apparatus. Great references, I suggest you to have a look at their works.
You can discover more in details the work of Chragokyberneticks (thanks to him for answering my little interview) through his online portfolio www.chky.ch